Precast Concrete Products
W&D Enterprises manufactures, delivers and installs high quality precast concrete steps and concrete bulkheads in the MA & RI area.

Concrete used for steps in residential or commercial applications is nothing new, though stamped concrete steps, with its many colors and designs, haven't been used as often.
Stamped Concrete Steps

Concrete Advantages
One of the most durable aggregate materials available
Cost-effective in comparison to other materials
Virtually endless design possbilities
Versatile in blending with other architecture and landscaping
Short installation process
Customizable
Longevity
Precast Concrete Steps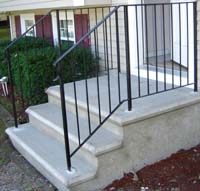 Check and compare. Our precision-cast, quality concrete stairs will cost you less than on-the-job pouring.
Precast Concrete Features
Precast as one unit
Completely reinforced with mesh fiber
Non-slip surface over entire platform and steps
Rail anchored in pouring casting
Steps are delivered, installed and ready to use in one hour.
Save time and money. Our reinforced precast concrete steps and bulkheads are properly cured before installation. Proper curing is essential to the strength and longevity of concrete. This means there's no additional work required on your end to ensure your stairs cure correctly. No forms to be set or cement trucks on your front lawn, your steps are useable in an hour.
# of Steps
Height of Unit
Length of Unit
5ft Width
6ft Width
7ft Width
W/Rails
2 Riser
15.5"
55"
3 Riser
22.5"
66"
Call For Pricing
4 Riser
30"
77"
5 Riser
37.5"
88"
6 Riser
45"
99"
Caution: Salt, calcium chloride and other chemicals are harmful to all concrete surfaces.
Precast Concrete Bulkheads
Compare Our Concrete Bulkheads
Concrete stairs and sides are poured in one piece
Featuring Gordon Double steel doors with locking device
Primed and ready for painting
4 sizes to choose from
W&D bulkheads featuring Gordon steel doors

Compare W&D's Service
Fast service
1 hour installation
One low price
No delivery charge in our service area
Delivery outside of our area also available